CNN publishes yet another biased report illustrated by cartoons echoing multiple antisemitic themes and conspiracy theories.
In an article published on January 25, 2023, titled "As Israel bans Palestinian flags, one artist protests with his brush," CNN journalist Abeer Salman went much further than her usual ahistorical tropes about the Jewish state and published the article with a cartoon that draws on the theme of the centuries-old antisemitic blood libel canard.
The article was published upon Ben-Gvir's controversial decision to order police to remove Palestinian flags from public spaces. The central illustration accompanying the article is far-left Israeli cartoonist Michael Rozanov's cartoon, also going by the name "Mysh", which depicts Ben-Gvir in the colours of the Palestinian flag.
While Ben-Gvir's decision fuelled significant controversy in Israel, including editorials in national newspapers, Salman crossed the line by including multiple other cartoons of Mysh recalling antisemitic themes and ahistorical commentary depicting Israelis as needlessly cruel.
One of the images depicts a Jewish family celebrating Passover surrounded by a sea of blood, and another explicitly uses the antisemitic Passover blood libel, depicting Palestinians being crushed to death between two pieces of matzah as blood pours out. Both cartoons echo multiple antisemitic themes and conspiracy theories, as well as other works of Mysh, who regularly compares Israelis to Nazis.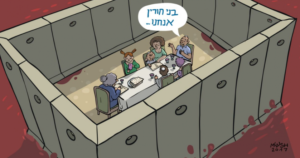 According to the International Holocaust Remembrance Alliance, the widely-accepted definition of antisemitism is "drawing comparisons of contemporary Israeli policy to that of the Nazis."
As David L. Litman highlights in his article on JNS, "publishing a puff piece on Mysh, including a cartoon that so closely echoes the same antisemitic themes found in his other work, adds yet another example of CNN's lengthy record of biased reporting and unchallenged platforming of antisemitism".