On February 9, the Community Security Trust (SCT) published its Antisemitic Incidents Report 2022, detailing the number and nature of anti-Jewish hate incidents in Great Britain that happened in 2022.
According to the Community Security Trust (CST) report, titled Antisemitic Incidents Report 2022, 1,652 anti-Jewish hate incidents were recorded in Great Britain in 2022, the fifth-highest annual total ever reported to CST. CST has been recording antisemitic incidents since 1984.
There is a downward trend compared to 2021, when 2,261 antisemitic incidents were reported, which is 27% higher than in 2022. The record high number of antisemitic cases in 2021 can be attributed to the conflict in the Middle East, which resulted in an unprecedented volume of anti-Jewish hate recorded by CST in May and June 2021, during and following the escalation of violence between Israel and Hamas. In 2022, there was no similar external circumstance to have such an impact on the content or scale of antisemitic incidents in the UK.
The total of 1,652 incidents in 2022 does not include 615 reports of potential incidents, which were received by CST in 2022 but were not deemed to be antisemitic. Many of these involved suspicious activity or possible hostile reconnaissance at Jewish locations; criminal activity affecting Jewish people and buildings; and anti-Israel activity that did not include antisemitic language, motivation or targeting.
Within the 1,652 reported incidents, the monthly total of antisemitic incidents averaged 138, far exceeding what was typically observed before 2016.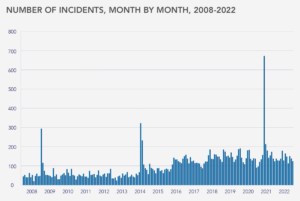 Over three-quarters, 78% out of the total of 1,652 antisemitic incidents in 2022, took place offline, which is the second-highest total for offline incidents ever recorded by CST. These include in-person antisemitic activities, namely face-to-face verbal abuse, assault, threats, graffiti and hate mail.
The remaining 22% of incidents occurred online, representing a 35% decrease from 2021. Antisemitic abuse that contained references to Covid-19 diminished from 78 cases in 2021 to eight in 2022.
In 2022, the anti-Jewish manipulation of current affairs was observed in the 16 incidents that were in some way related to the war in Ukraine, including conspiracy theories accusing Jewish people of causing and bankrolling the war and of Jews being behind every aspect of the conflict, filling positions of power and pulling the strings on both the Ukrainian and Russian sides. Although relatively few in number, these incidents demonstrate how some antisemitic incident offenders will repurpose established antisemitic ideas, theories and stereotypes to fit with whatever is prominent in broader public discourse.
The number of incidents containing rhetoric linked to Israel and Palestine alongside anti-Jewish language or targeting also fell from 2021. Compared to 826, a total of 244 such incidents happened in 2022. The decrease can be attributed to the lack of substantial intensification of hostilities in the Middle East.
Instead, the most common discourse observed included references to Hitler, the Nazis, the Holocaust or other aspects of the Nazi era, present in 28% of all antisemitic incidents reported to CST. Twenty-one per cent of these showed evidence of far-right extremist beliefs.
An alarming trend from 2021 persisted in 2022, whereby the proportion of incidents involving children as victims, offenders, or both, was higher than the averages typically observed in previous years. In incidents where CST obtained the victim or victims' age, 15% were minors, and 20% of incidents where the offender or offenders' age was provided involved child perpetrators, despite the observed decrease in anti-Jewish hate reported to have taken place in a school-related context.
It suggests that the surge in antisemitism enacted by a younger demographic runs deeper than the desire to blame Jewish people for wars involving Israel. The figures may reflect a growing exposure of younger people to extremist beliefs and conspiracy theories about Jews, which abound on social media platforms where this demographic is perhaps more likely to spend a significant amount of time. Offenders under the age of 18 years were also more likely to incorporate politicised, conspiracist or extremist rhetoric within their antisemitism, and incidents involving minors are more likely to involve violence.
The number of incidents in the Assault category decreased by 22%. A total of 137 violent incidents comprises 8% of the overall total, equal to their proportion of 2021's record high.
Incidents of Damage & Desecration of Jewish property in 2022 fell by 10% from 2021. There were 101 direct antisemitic Threats, a 29% fall from the 143 incidents in this category in 2021, and nine incidents of mass-produced antisemitic Literature in 2022, one fewer than the 10 such incidents during 2021.
CST recorded 1,331 antisemitic incidents in 2022 in the largest incident category of Abusive Behaviour, which covers verbal abuse, antisemitic graffiti, most online antisemitism and one-off examples of hate mail. This was a decrease of 28% from the 1,849 incidents in this category in 2021. Eighty-one per cent of all antisemitic incidents reported during 2022 fell into this category.