A monument in the cemetery in the Swiss town of Chur has links to Nazi Germany.
A huge monolithic granite monument in the cemetery of Chur, Switzerland, has been revealed to have links to Nazi Germany, along with the awkward relations of neutral Switzerland with its World War Two neighbours. The monument has been there for decades, yet few people cared about its origin, which is now causing controversy and embarrassment, reports the BBC.
While thousands of wounded prisoners of war, French and British as well as German, were treated and interned in Switzerland during World War One, many of them dying from their wounds, the monument in Chur was not built until 1938. Swiss historian Martin Bucher explains that as the Nazis grew in power in Germany, their propaganda involved cult-like worship of their war dead, and the German War Graves Commission became part of Hitler's propaganda machine in the 1930s, with the task of creating visible signs of Nazi power in Germany's neighbours as well as at home.
Germany's War Graves Commission submitted a request to the Swiss authorities to erect the monument in Chur, and their request was approved. Polished and engraved in Munich, using the Fraktur font, a typeface favoured in 1930s Germany, it was delivered to town on the eve of World War Two. However, the untended monument is now covered in moss, and the engravings are difficult to discern.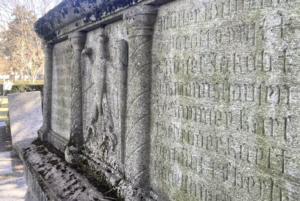 While Switzerland remained neutral during World War Two, making compromises with Berlin, banking Nazi gold and turning away Jewish refugees, the authorities quickly turned against Nazi sympathisers when the war ended, punishing Swiss Nazis and expelling German Nazis from the country. Most people living in Chur now do not know about the monument's origins in the cemetery or the Nazi presence in Switzerland during the war.
Though embarrassing for many, the monument will likely not be torn down, yet few people say it should remain in place. A consensus seems to be forming around a proposal to re-examine and publicise that period in Swiss history, just as Switzerland had to re-examine and apologise for its treatment of Jewish refugees during the war.